Fresh tiger prawns in ginseng herbal soup
Korean ginseng has a 'warmer' nature than its American counterpart, and promotes 'yang' energy with its invigorating properties. Plus, it is less prone to turning bitter when overcooked.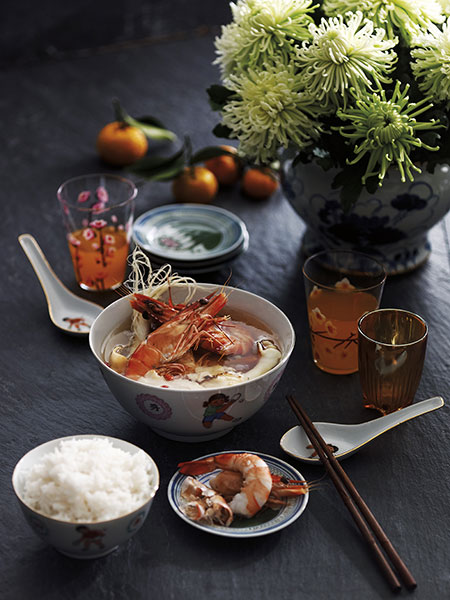 Serves 4
Prep time 10 minutes
Cook time 25 minutes
15 large tiger prawns
1.6 L light chicken broth
400ml water
3 whole fresh Korean ginseng
25g huai shan
10 red dates
pinch salt
pinch sugar
½ tbsp wolfberries
Blanch prawns in a pot of boiling water for 1 minute. Drain and set aside.
Combine the chicken broth with the rest of the ingredients (except the wolfberries) into a pot with the water
Bring to a boil, then lower heat and let simmer for 10 minutes. Add the wolfberries and simmer for another 15 minutes. (Alternatively, you can use a slow cooker or thermal pot).
Season to taste. Add in the prawns, simmer for another 2-3 minutes and serve with white rice on the side.