Filet mignon in red wine jus with baby garden vegetables
FILET MIGNON IN RED WINE JUS WITH BABY GARDEN VEGETABLES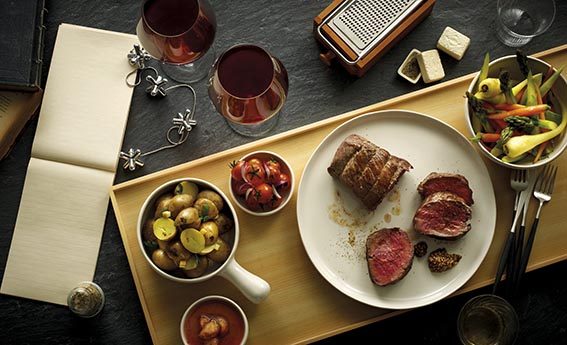 Serves 2
Prep time 10 minutes
Cook time 15 minutes
250g Migon fillet, tied around the middle with butcher string
pinch rock salt and freshly cracked black pepper
1 cup red wine
2 tbsp unsalted butter
buttered baby garden vegetables
50g baby carrots, peeled and pre-blanched
50g baby turnip, peeled and pre-blanched
50g U.S asparagus, peeled and pre-blanched
80g red cherry tomatoes
4 tbsp unsalted butter
pinch salt and freshly cracked black pepper
garnish
1 bowl boiled potatoes, seasoned with salt, pepper and melted butter
Marinate the mignon fillet with rock salt, black pepper, red wine and butter overnight in a fridge.
Drain off the liquid from marinate in a bowl, and season the fillet with rock salt and pepper.
Heat up a grill pan, and sear the beef on all sides till golden brown.
Place fillet onto a baking tray and roast in a preheated oven of 175˚C for 8 minutes. Let it rest in the oven for 5 minutes.
Using the same pan, deglaze the red wine marinate and bring to a boil. Whisk in butter until it slightly thickens.
Lightly sauté all vegetables with salt, pepper and butter in a separate pan.
Serve with beef, potatoes and jus.