Double gin & nutmeg shooter
Nicosia says: "I wanted to create something sensational and more elaborate than the traditional Bloody Mary oyster shooter, and nutmeg is a complementary ingredient that doesn't detract from the oyster's flavours. Don't down too many at once though, there's a double gin dose inside."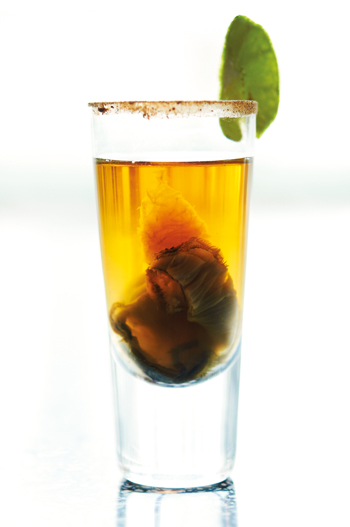 Serves 1
Prep time 3 days (infusion time)
gin infused with russian earl grey
1 earl grey tea bag
1 bottle Bombay Sapphire gin
30ml earl grey infused gin
pinch of nutmeg
15ml sugar syrup
15ml lemon juice
Tsarskaya oyster with its natural jus
• To make earl grey infused gin, add the tea bag to the bottle of Bombay Sapphire Gin. Wait 3 days before using.
• Rim the shooter glass with nutmeg powder.
• Pour the earl grey infused gin into the shooter glass, then add pinch of nutmeg, sugar syrup and lemon juice.
• Lastly add the Tsarsakaya oyster for the creamy texture in contrast with whole mixture. Serve.
Nicosia says: "I wanted to create something sensational and more elaborate than the traditional Bloody Mary oyster shooter, and nutmeg is a complementary ingredient that doesn't detract from the oyster's flavours. Don't down too many at once though, there's a double gin dose inside."