Cumin spiced crab cake with pickled cucumbers
Ho says: "This is an all-time favourite dish at Pierside Kitchen. Adding cumin to the crab cakes lifts the otherwise monotonous flavour and gives an interesting Asian touch to the accompanying pickles."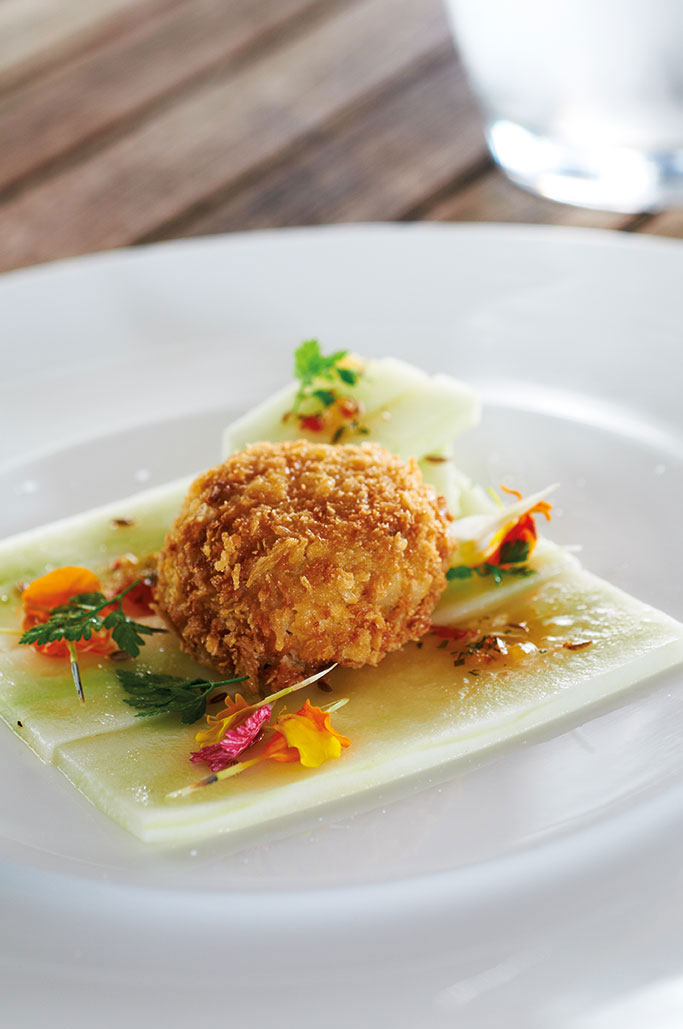 Serves 4 Prep time 30 minutes + 5 hours marinating time
Cook time 15 minutes
Advertisement
pickled cucumbers
100ml water
100ml vinegar
200g sugar
50g sweet Thai chilli
5g cumin, toasted
1 cucumber, skinned, deseeded and cut into batons
crab cakes
120g red, green and yellow bell peppers, deseeded and finely chopped
20g onions
30g mayonnaise
8g ground coriander, lightly toasted
8g ground cumin, lightly toasted
pinch of Cayenne pepper
5g chopped dill
zest from ½ lemon
20g panko (Japanese bread crumbs) with pinch of salt
425g jumbo lump crabmeat
coating of crab cakes
200g flour
3 eggs
300g panko
• For the pickling liquid, bring water, vinegar and sugar to a boil in a pot and let it cool to room temperature before adding Thai chilli and toasted cumin.
• Add cucumber into the pickling liquid and allow it to sit for at least 5 hours.
• In a large bowl, mix all the ingredients for crab cakes together except the crabmeat.
• Season to taste and then carefully fold in crabmeat carefully.
• Shape the crab mixture into 20 balls each weighing 30g. Flatten slightly and set aside.
• Coat crab cakes with flour, then dip them in egg and pat them in panko. Tap out excess bread crumbs and set aside in chiller until ready for use.
• Fry in oil at 170ºC until golden brown.
• Serve with pickled cucumbers.
Ho says: "This is an all-time favourite dish at Pierside Kitchen. Adding cumin to the crab cakes lifts the otherwise monotonous flavour and gives an interesting Asian touch to the accompanying pickles."