Blackforest trifle
Red spotted giant toadstools, glittery fairy wings…now is the time to raid your children's or niece's closet for some party decorations. We recommend serving this dessert in a large trifle jar for maximum impact. Let it sit pretty as a table centrepiece to accentuate the forest-nature theme.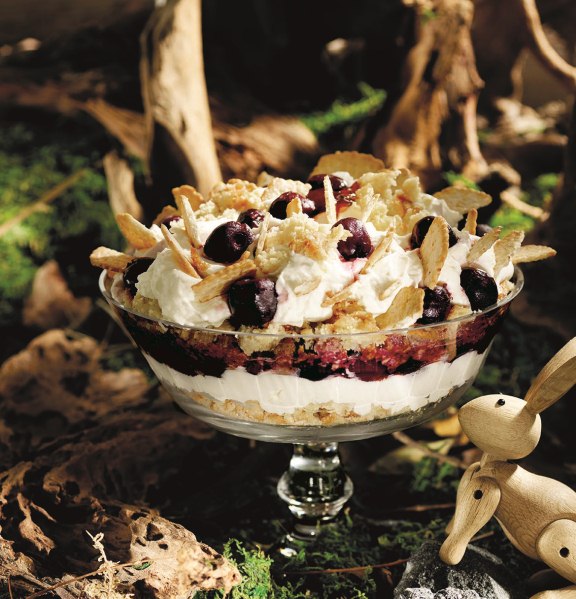 Serves 6 to 8
Prep time 35 minutes
Cook time 40 minutes
chocolate base
180g unsweetened chocolate, coarsely chopped
3 cup fine sugar
1 ½ cup unsalted butter (cut into 2cm cubes)
1 ½ tsp pure vanilla extract
¾ cup plain flour|
pinch salt
6 large eggs
marinated cherries
6 cup morello cherries in syrup
6 tbsp Kirsch or cherry brandy
6 tbsp fine sugar
garnish
1 cup grated dark chocolate
double-whipped cream
4 ½ cups heavy cream
6 tbsp white granulated sugar
¾ tsp pure vanilla extract
For the chocolate base, heat a pot with boiling water and put a whisking bowl over its rim (the water should not touch the whisking bowl). Add in chocolate, sugar and butter into.
Once chocolate and butter have melted, add in the vanilla, flour and salt. Continue whisking the mixture for 10 minutes or until the mixture cools down.
Finally, whisk in the eggs and mix well. Butter grease and flour a baking mould. Pour the mix into the mould. Bake in a preheated 165°C oven for 35 minutes.
Once the chocolate base has cooled down, cut it to bite-size pieces.
Layer the chocolate base, marinated cherries, garnish and cream
Chill it in the fridge for another 30 minutes before serving.