Big fat chocolate chip cookie cake
BIG FAT CHOCOLATE CHIP COOKIE CAKE
Serves 8 to 10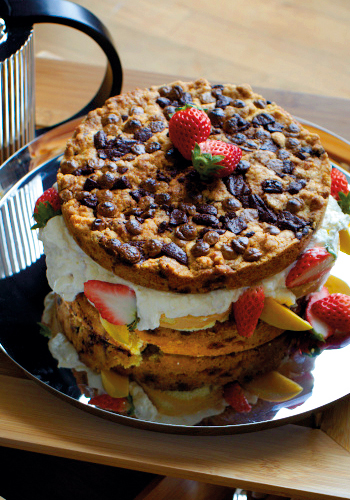 Prep time 10 minutes
Bake time 45 minutes
375g all-purpose flour
¼ tsp fine salt
½ tsp baking soda
200g butter, softened
200g fine sugar
50g brown sugar
2 whole 55g eggs
2 tsp vanilla essence
200g semi-sweet chocolate chips, loosely chopped
200g white chocolate chips, loosely chopped
Advertisement
cake filling
whipped cream
assorted berries
• Combine flour, salt and baking soda in a bowl.
• Beat butter in a mixer with a paddle. Add sugar and brown sugar, then beat at high speed until creamy. Reduce beating speed to medium and add in eggs one at a time. Reduce beating speed to slow and add vanilla essence.
• Fold in chocolate chips lightly.
• Preheat oven to 180°C. To make each cookie, drop 6 tbsp of batter onto a well-greased baking tray. (The batter will be enough to make 3 cookies.)
• Bake cookies until the sides turn golden brown, or for 10–12 minutes.
• Cool cookies and transfer to a rack. Sandwich the cookies with whipped cream and assorted berries.