Best Korean ginseng chicken soup in Singapore
The epicure team sniffs out the most soup-erb places to cosy up to a piping hot bowl of samgyetang.
TODAMGOL
One might easily miss this quaint little eatery along Tanjong Pagar's endless row of Korean restaurants, which serves up a praiseworthy ginseng chicken soup. We eagerly dug into the tender spring chicken, and were rewarded with the generous stream of doughy-soft glutinous rice from within. Though the ginseng was notably missing, other essentials like dates and chestnuts were delightfully abundant. Fragrant, refreshing and authentic, this is perhaps one samgyetang that does its Korean roots justice. 31 Tanjong Pagar Rd. Tel: 6224 7077
SUPER STAR K
Known for its grilled meats and constant crowds, Super Star K also serves up a subtle but soothing ginseng chicken stew. The restaurant was packed to the brim when we were there, and we were pleased to see patrons cheerily munching away at a plethora of dishes and homely banchan besides the grilled options. The star of the night was undoubtedly the ginseng we unearthed in our broth, attesting to the hearty flavours and quality of the soup. 75 Tanjong Pagar Road. Tel: 62240504
Advertisement
HANSANG KOREAN FAMILY RESTAURANT
Driven to share her home country's diverse cuisine after six years in Singapore, sajangnim and avid cook Son Mijin opened HANSANG, which means "a table full of food all the time" in Korean. Likewise, the samgyetang at their Novena restaurant is chockfull of home cooked goodness—barely any MSG is used. The broth is reminiscent of a Chinese herbal chicken soup with a hint of ginseng; the pliant meat naturally sweet but could be juicier. Come during lunch to opt for a half chicken, while for dinner only whole poultry are served. #03-33 Square 2, 10 Sinaran Drive. Tel: 6397 6752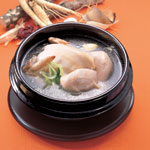 NOLBOO HANGARI GALBI [CLOSED]
The samgyetang at Nolboo Hangari Galbi is perfect for sharing: nestled in the claypot is a whole spring chicken stuffed with Korean ginseng, red dates, a bulb of garlic, gingko nuts and glutinous rice. It is a good size—about 400g before an hour of basking in the soup. The earthy and herby smell of the ginseng wafts from the hearty stock, a pleasant but not overpowering brew made from chicken bones, Korean ginseng and ginger. Plump and gently infused with flavour, the fowl is fork tender and plentiful—allow the service staff to cut it up and skip the offering of plain rice. #08-04/05 Orchard Central, 181 Orchard Road. Tel: 6884 9151
TOGI KOREAN RESTAURANT
Every dish—down to the banchan—at Togi is supremely comforting, but none more so than its ginseng chicken soup. Topped up by the hospitable lady boss each time its level dips, the soup remains piping hot from start to finish. You get a charge of warm, woody notes from aged Korean ginseng with each sip, its mild bitterness tamed by a generous sprinkling of seasoned salt. There's no glutinous rice added, leaving the soup perfectly clear and sweetened only by gobs of soft, roasted chestnuts. 11 Mosque Street. Tel: 6221 0830
AUNTIE KIM'S KOREAN RESTAURANT
The Korean philosophy of yin and yang is termed eumyangohaeng, reflected in a balance of ingredients for their colour, texture and healing properties. The warming effect of Korean ginseng is further amplified with wolfberries and jujube (red dates) but also mellowed by soft, simmered leeks. All the goodness of the chicken is steeped into the soup, which is why a dipping sauce of minced garlic and sliced red chilli is served on the side to perk up the slightly bland meat. 265 Upper Thomson Road. Tel: 6452 2112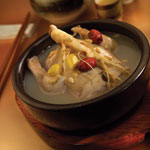 CRYSTAL JADE KOREAN GINSENG CHICKEN & BBQ
The restaurant chain might have its roots in Cantonese cuisine, but that doesn't mean they don't take their Korean fare seriously. Fresh, whole young chicken is stuffed with glutinous rice, then sealed and steamed in a pot for one-and-a-half hours with jujubes, gingko nuts and four-year-old ginseng root. The potpourri of ingredients is then slow-cooked with chicken stock for over three hours, which allows the ginseng trademark tang and aroma to infuse the chicken meat. What you get is a rich, satisfying soup that warms you to the bone. #B2-36A Takashimaya S.C., 391 Orchard Road. Tel: 6733 3229
CHANG KOREAN BBQ RESTAURANTS
They might be known for their authentic Korean charcoal-grilled meat experience but Chang's ginseng chicken soup also doesn't disappoint. Shreds of egg are sprinkled over the still-simmering broth in a large clay pot, and the tender fowl yields easily to reveal a generous filling of sweet and sticky glutinous rice. There's no physical sign of ginseng, but it's more than made up for by the gentle but fragrant perfume of the root that clings to meat and soup. It's one stew that we can't stop slurping up. 71 Loewen Road. Tel: 6473 9005
GAIA KOREAN RESTAURANT
The distinct aroma of ginseng drifts towards before the bowl reaches your table. Sitting pretty in a bath of rich broth is half a chicken and a root of ginseng, just peeking out from under the surface. The bitter flavours of the ginseng is countered brilliantly with the savoury notes of the fowl. The ivory white soup is neither too salty nor too oily, each sip a delightfully healthy and refreshing experience. 17E Holland Village, Lorong Liput. Tel: 6339 3313
JANG WON KOREAN RESTAURANT
The essence of Korean cuisine is sometimes best found in a mother's dish, and at Jang Won, we had the finest fare that was unpretentious and yet packed full with flavours. In particular, the Korean ginseng chicken soup is excellent; the slight sweetness to the broth – arguably from the slow-cooked bird and its sumptuous stuffing – is astonishing, and pleasantly so as well. With just tinges of earthly ginseng tones, the soup is satisfying and easy on the palate. 44 Mosque Street #01-01. Tel: 6532 6949
Excerpt from the October 2014 issue of epicure.