Best chicken pies in Singapore
These humble pastries are a dime a dozen, but the following 10 make it a cut above the rest.
CAFÉ MOCHA
Tucked in a discreet corner at the entrance of Marina Mandarin, Café Mocha dishes out an average of 50 to 80 chicken pies daily. Fresh rosemary, sage and bay leaves, celery, onions, carrots, sweet corn and chicken bones are combined in chicken stock to intensify the pastry's peppery filling. The chefs add fresh cream towards the end of the cooking process to enhance the filling's velvety texture, before seasoning the stock with simple spices like black pepper and sea salt. The pastry dough, made in-house, is layered with butter from Belgium, and left to rest in the chiller for at least six hours to bring out its buttery goodness. Level 1 Marina Mandarin Singapore, 6 Raffles Boulevard. Tel: 6845 1066
Advertisement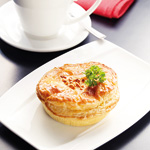 SWISSBAKE
The thing that hits you when you take a bite of this savoury pie, with nuts sprinkled on top, is the sharp aromatic flavour of the creamy chicken, potato and mushroom filling—we wonder why we did not discover this gem sooner. The highlight of the pastry is the generous amounts of mushroom pieces embedded in a crusty but slightly doughy exterior. #B2-47 Marina Bay Link Mall, 8A Marina Boulevard. Tel: 6509 3789
OVEN MARVEL
With more than 20 years of experience as a pastry chef before opening Oven Marvel, owner and head chef Johnny Ngiam has since devoted all his attention to this humble bakery shop that sells only three items: chicken pies, curry puffs and muffins. The peppery chicken pies are stuffed with onions, white sauce, sweet corn, carrots and green peas. Despite probing, Ngiam would only reveal that the pies contain Belgium halal chicken. #01-51 Sunshine Plaza, 91 Bencoolen Street. Tel: 9636 1503
SWISS LINK
The pastry's strong whiff of butter awakened our senses the moment it was brought out of the oven. Though the dry filling can be further improved by making it creamier, we love the warm flaky crust which falls into moreish bits and pieces when pulled. This massive chicken pie is best bought whole, because it will be a pity to miss out on the hard boiled egg inside once sliced into smaller portions.
109 Clementi Street 11. Tel: 6778 7858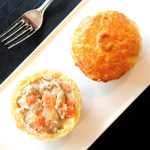 TUXEDO
Carlton Hotel's team of award-winning chefs make the chicken pies from scratch everyday, using only good quality imported flour and natural poultry to maintain freshness and fragrance in the flavours. Fresh dough is set aside for a few hours before it's folded with homemade butter and left in the oven to form the perfect crisp. This results in an extremely creamy pie filled with heaps of chicken chunks, carrots, potatoes and onions enclosed within a layer of buttery crust. 76 Bras Basah Road. Tel: 6415 7887
DON YOUR PERSONAL PIE CLUB
This diner is a cult favourite among pie lovers. Don Your Personal Pie Club's interpretation of the classic chicken pie takes on flavours with a local twist, and wins our vote for the most liberal amount of ingredients used. The pie crust consists of many layers, and is soft, savoury and buttery. Whole hard-boiled eggs stuffed in the pie add a nice touch to the peppery filling. #B1-06 1 Raffles Place. Tel: 6536 0925
COTTAGE PIES CAFÉ
Shaped like a small curry puff, the 100 percent butter-based pastry has a slightly burnt underside. The flaky crust gives way to loud crackling sounds to reveal generous portions of finely shredded chicken meat and mixed vegetables in between the airy layers. If there is one thing in the recipe we badly want to find out, it'd be the special seasoning the chefs add into the pies to make them spot on. #01-01 White Sands, 1 Pasir Ris Central Street 3. Tel: 6585 1741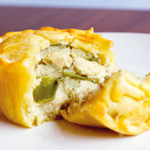 THE GOURMET PIE COMPANY
If you fancy your pie fillings moist and saucy, go for these perfectly round golden brown gems from The Gourmet Pie Company. Made fresh every day at the central kitchen in Admiralty, they are encased in flaky, buttery short crust pastries which follow a family recipe handed down to co-owner Jane Wilson. The restaurant uses halal certified chicken breast from Brazil, and the chunky pieces are trimmed to ensure only the most succulent parts are used. While the chefs maintain there is nothing new to the pie, care has been taken to use a blend of herbs to give the filling a distinct aroma. thegourmetpiecompany.com. Tel: 6491 5968
THE PIE KIA SHOP
Its amusing name did catch our attention but what makes the chicken and mushroom pie at Pie Kia so good is the aromatic crispy exterior that envelopes tender, juicy and well-seasoned meat. The dainty size of the pies encourages you to try different flavours such as the roasted chicken, black pepper chicken and curry chicken. #01-38B Century Square Mall, 2 Tampines Central 5. Tel: 6786 5327
HAN'S
Despite Han's mass production and branding, the cafe's 35-year-old chicken pie recipe passed our taste test. The chain produces between 800 and 1,000 golden-hued pastries at their central bakery before dispatching them to the 20 outlets islandwide. A layer of egg white glaze is added to the top of each puff pastry to ensure a crisp texture. #01-38 Century Square, 2 Tampines Central 5. Tel: 6784 4176
Excerpt from the March 2014 issue of epicure.