Best orh nee in Singapore
This Teochew dessert sends us straight back to our childhood days.
TIEN GARDEN [CLOSED]
Tien Garden isn't a place where you'd expect to find good orh nee—it's more known for its Salted Egg Crab (press reviews of the dish are plastered all over the walls). We are surprised to find its dessert giving other restaurants on this page a run for their money. The yam paste is mashed till a very fine texture, while a dollop of aromatic coconut milk serves as the finishing touch. This is a rich orh nee that'd appeal to those with a very sweet tooth. 351 Changi Road, Lorong Marzuki. Tel: 6746 5088
SWA GARDEN TEOCHEW RESTAURANT
The common sight of older diners in this nondescript Teochew stalwart is an endorsement of the restaurant's traditional, comforting flavours. The excellent orh nee, studded with ginkgo nuts, is smooth and rich (but not cloying). The staff were initially hesitant to reveal its recipe to us but we managed to wring something out of them: no pork lard but some vegetable oil is used, and water chestnut cream is drenched over the yam paste to lend an extra fragrant touch and a more luscious texture. 540 MacPherson Road. Tel: 6744 5009
Advertisement
SWATOW SEAFOOD RESTAURANT
This restaurant, located in the heart of Toa Payoh, makes their yam paste fresh every day. We were pleasantly impressed by the generous portions of ginkgo nuts and finely smashed pumpkin in this classic dessert. 181 Lorong 4 Toa Payoh. Tel: 6363 1717
CHAO SHAN CUISINE
The owner of this small diner hails from the famous Guan Hin Teochew restaurant and, expectedly offers an outstanding orh nee served with classic ginkgo nuts and mashed pumpkin. Instead of being watered down with coconut milk, the yam is cooked in a wok until it caramelises and becomes a paste. #01-01/02 Grand Building, Grand Building, 17 Phillip Street. Tel: 6336 2390
AH ORH SEAFOOD RESTAURANT
The gooey and sweet orh nee is as much a must-try as the oil-fluffed oyster omelette here. The former is blended to a slightly runnier consistency than most, its creamy viscosity still bearing slight traces of soft-cooked yams. It comes topped with ginkgo nuts and red dates. 115 Jalan Bukit Merah. Tel: 6275 7575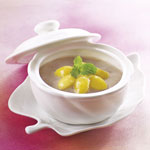 CRYSTAL JADE GOLDEN PALACE
With Cantonese and Teochew dishes on the menu, the fine dining Crystal Jade Golden Palace offers a refined and delicate version of orh nee. The starchy pudding-like yam paste is as smooth as cream and each bite dissolved easily on our palate. To attain the velvety texture, Malaysian yams are first steamed for 30 minutes before being mashed and filtered. The paste is then cooked over slow fire with peanut oil and sugar syrup added intermittently for an attractive shine. The orh nee here can be topped with a choice of sweet potato or ginkgo nuts. #05-22/24 Paragon, 290 Orchard Road. Book a table at Crystal Jade Golden Palace with Chope
Tel: 6734 6866
LIANG KEE [CLOSED]
Most eateries have replaced the traditional pork lard in orh nee with vegetable oil for health reasons. Liang Kee is no different, though it adds softly stewed pumpkin for richness as well as a mild sweetness, allowing for the reduced use of sugar too. Even after a heavy meal, spoonfuls of this dessert never feel overwhelming. #01-27, 34 Whampoa West. Tel: 6297 7789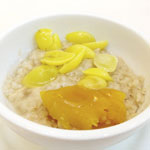 TEOCHEW RESTAURANT HUAT KEE
Teochew Restaurant Huat Kee's orh nee with ginkgo nuts and pumpkin is not as sweet as the others we have tried, but it makes up for that with a very smooth and velvety texture. The soft pumpkin bits add a little fruity aroma. The restaurant also offers a cup of concentrated tea after the dessert to cleanse your palate—a thoughtful touch. #02-01 RELC Building, 30 Orange Grove Road. Tel: 6423 4747
LEE KUI (AH HOI) RESTAURANT [CLOSED]
While orh nee elsewhere is served up with pumpkin paste or ginkgo, Lee Kui serves its yam paste encased in a crisp buttery shell. The warm curry puff-like pastry breaks open to reveal an immensely fragrant filling, with thick and slightly uneven blobs, a sure and welcome sign that it is made from scratch. 8 Mosque Street. Tel: 6222 3654
TEOW CHEW MENG
It goes without saying that no Teochew meal is complete without orh nee and it's no different at Teow Chew Meng. The Malaysian eatery serves a steaming hot yam paste whose humble greyish appearance belies its deliciousness. Garnished with four ginkgo nuts, this healthier version of yam paste (no coconut milk) was neither very sweet and nor too oily. With this dessert, you can savour the natural texture and fragrance of the yam. 190 Keng Lee Road, Chui Huay Lim Club. Tel: 6732 3637
Excerpt from the January 2014 issue of epicure.